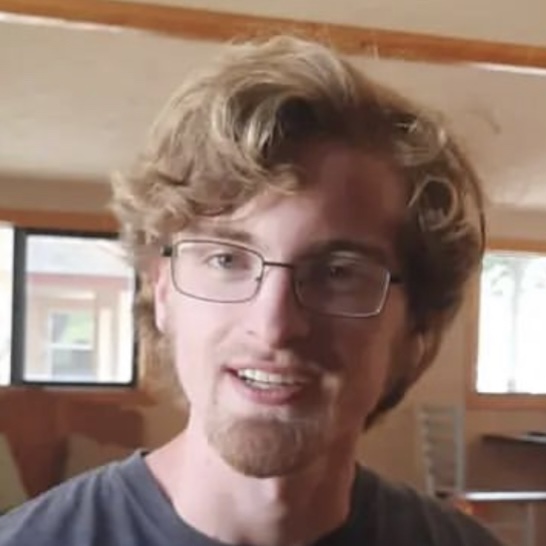 Who's this?
I'm a computer science student at a small Christian college. I really enjoy learning about anything and everything CS related, so, if you have anything interesting to share, please send me an email. I'll likely read it and respond to it. If that doesn't work, find my phone number. ;P
Random Writing/Essays:
Fun Projects:
campsector - A program to detect cars on campus webcams using OpenCV (video)
Helpful Links:
If you are coming here from PCC (the school I attend), then you might find these links interesting/helpful.
Public Key:
-----BEGIN PGP PUBLIC KEY BLOCK-----

mQENBGUPNRkBCADwiK+VJYrd0YDce2iyk5KlutBmJfwkXZJZDGbk5qk/PX1ff53T
E9X985PXur5svW7rFa8mDr3eG5geBI3I8ulbgncsMF77kUK3sTlObbpbo487Ix9t
uBZB7iI9fSXceljopVXs4+leOxSqGSDpqDXpLlcnhrlb6hTDYQLUNRHl8uquar5n
elkowymLhE+DeEcbHfQyQ2w/LWR/e/P2AAGXP5c/4H3pGX8qKkp18ca+mZF2Xcqu
e3Rp6EzEXpl0i7n4uKNj4QCO/I0jlfgumoioXBi2btZkUqjGBb5MXuH0tqa6BOEg
xhEyyE04U+iBNn0Zhf6BSjGn1weI0qAJAjrXABEBAAG0LEFuZHJldyBUZWVzZGFs
ZSwgSnIuIDxhbmRyZXdqckB0ZWVzZGFsZS5uZXQ+iQFOBBMBCgA4FiEERiSyDPA0
np0cfnc3f6kotIrnP4kFAmUPNRkCGy8FCwkIBwIGFQoJCAsCBBYCAwECHgECF4AA
CgkQf6kotIrnP4lUzggA0F4kubeYSiJ+LeipauLVrFhgyBIo2QDJOL8l/XbDJaER
0HRecU6iZ5KBvKboBg3IymPljDB1ECQYyA21Ad+a7HYNXpSX00ps7qLfk19O/dfi
UKv44f6xk+E+830jNXZWryBd0iClLhwkJH/+hP7NPW7adFn4oU4aPyfz4CzpUIEG
ffD/AOmsbza7v0U7ZRuic5hJCHvPCyRiiFOjDKwSvYM6wH/qnitaVKIFeaTOf6Fn
ZlU0z0R9qLmDT56IRyyO0CteybMjJMUZ2EM593ewlXbLh2ShZ4oURreuKpvN0cmV
VoHuqH6vYx41BBMbKNZtFl1P3nY271sGhVEcjm/0DLkBDQRlDzUZAQgAl/dzvXPv
hQUJ54PrkBTQKPhx2hE6MpQr7sQw648aHK1QzmIQ1Aq41HfoE9FA4NzFDTtSx2fA
Gx8fNrgUY/z5XF7cCQfkxauDzEc7hZdSFhMvJ64YY+MgGZIm76dK0eemCcOCzmhh
30JbBdbI+1oZXPGRqQ2HNnspyX2QMhgrrjc5LZKFCMkqQ5RY3kOcS1ZNjgchZMFV
i6sZoLD5kD78E54BqyMg3xpnggIGilDL2FjIIEWzmgy+WIPzpmIrJlXRkmUq9u1M
5CgchBXO0Z4RfPlGXT6IgO3F0p1h2RblSkc5OvDS80y7eBSTBX6PHhQRJ+zj6kZk
Uj/D0uyr3qI/XwARAQABiQJsBBgBCgAgFiEERiSyDPA0np0cfnc3f6kotIrnP4kF
AmUPNRkCGy4BQAkQf6kotIrnP4nAdCAEGQEKAB0WIQQW1iwbhRqItkg1LWNMm36j
iSN1WgUCZQ81GQAKCRBMm36jiSN1Wvt9B/sHHjy6KtK2vWsa3vuzGlciFIu/uSTe
wY7RVbNjOUwQo7Ire7g5jMsOuMsLZNzJwNPF58p3pS2K1NfXSu5JPDAF0MzGTGtM
Pcbbx+8rocHVaUYdidR/Z1AXq1I3h9qNBQZa9ybW7ldzvWnop/1rDBpa/mpP/Tpn
qqzgRiPjVYOJi0v7TfeU/TCWAMbYIwwX0PwPyxUmtIgA1k664ld1gP7ssZ5d3hzh
4Q/PkraiwB1Cq2KF9Lw8qXOMb5JzYMzN4uS9vwkLIpD4SjHODjrStDgZ/uLmntcj
8ERiNIkd1UHX3BvOMXHZ2y2ulnRXWKsNvkSYFcspaJdM5meJjoaqzxHZ5jgIAIId
P7SNVSisTRZOgfLOXxA8v37Os9M3nJPln9phhi+zf6flaLCM/g/VfOK46peDY4Ye
igld4nMW4HIkVXn0syllHnKFv1T4lRZHp07+xGnp9pl0jKsJgEyrlEc5gV3h1VO+
yN6IjFS59q021b2cIr1De/8YGpI75rx0vJdrzyXOxm+gfQBGFNBBIV5WfFvjVIhF
1sMckp6lS44US2kPcsMq0hHhllbRlC/88GIQScNmTtrvu/Oa+atFBwE/DF0YZcUv
3qc6XI9TsbLDZyrn5ZflQ4CT7cBYSzbtQ52FSBXeWiO3ZHIPid7o0moOwFRKIsAW
t5xIX2OEzkMUGCIPnkA=
=0Vop
-----END PGP PUBLIC KEY BLOCK-----